Client
Plan International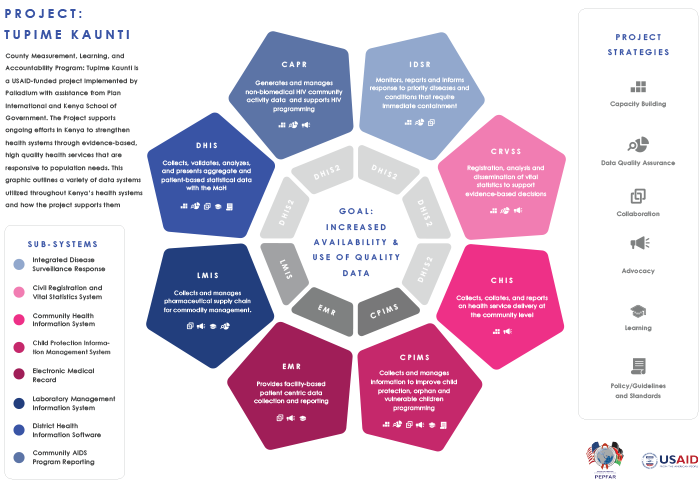 Project Overview
Tupime Kaunti was a five-year USAID-funded project supporting the Kenya Health Sector in HIV, malaria and Reproductive, Maternal, Newborn, Child and Adolescent Health (RMNCAH) programs. The project focused on working with county governments to strengthen Monitoring Evaluation and Learning systems to provide quality data and synthesized information for planning, implementation, policy development and decision making. During the last year of the project, the program needed additional project management and support to develop lessons learned.

Tupime Kaunti (CMLAP) Fact Sheet (PDF, 0.2mb) »
Solution
Project Balance supported Plan International on CMLAP during the last year of the project. Work included collaborating with the in-country team to develop a consolidated and actionable work plan; monitor the work on a weekly basis and provide overall project management support for the last year of the project. Lanette Burrows traveled to Kenya to run a week-long planning workshop at which time she facilitated the enumeration and prioritization of work tasks and a realistic work schedule.

An agile project approach was adopted that emphasized short iterations with a small number of clearly understood deliverables that were checked for accuracy and quality as they were being produced. Improvements to work products were made at each iteration. The weekly team meetings were important because they helped to keep the team focused and allowed activities to be reprioritized to meet time constraints. Moreover, Project Balance improved communications between the prime (Palladium) and the Plan International team to ensure expectations were clearly communicated and deliverables met on time and within budget. Working closely with project and district counterparts, the team was able to roll out a number of initiatives to support health systems strengthening learning and accountability.
Impact
There were several important outputs for this activity:
An actionable work plan that was approved by the prime contractor and monitored weekly
A comprehensive review of the available digital health systems in use across the country (view PDF, 1.2mb)
A by-county electronic health records system coverage assessment (example: Busia County EMR Coverage – PDF, 3.3mb)
A malaria county dashboard
A reproductive health data quality scoreboard
One of the key benefits of project closure process is that it captured, organized and documented the inventory of information and lessons learned from the program. The documentation was presented using infographics so that it is easy to comprehend and use. The project was successful in improving data collection and data quality, and ultimately increased data demand and use.